Welcome to Southeast Louisiana Emergency Communications Service located in New Orleans, Louisiana. Formally known as ARES of Southeast Louisiana, SELCOM is a not for profit disaster relief organization providing communications and logistical support to disaster relief organizations during on-going disaster and recovery operations.
In 2007, we acquired all E.A.R.S. Assests in New Orleans. In 2009, the remaining members of the NOVHF Club merged into our organization. We now maintain the 146.775 repeater and have added the 224.000 & 444.825 repeaters. We support the KD5QZD-1 APRS digipeater at one fo our downtown sites as well as working on a VHF packet BBS. The W5MCC Digi is monitoring on 145.01 & 446.100.
The 86 repeater is now the primary emergency communications repeater for Region 1. The 146.86 is also hosting the Echo/IRLP Node. Echolink Node KB5OZE-R or # 670956. IRLP Node number 3914.
We have now dedicated repeaters for specific purposes during an emergency. Please click in the side bar for the new allocations.
New Orleans Hamfest 2014!
April 26th, 2014
Woodlake Gym, 131 W. Esplanade Ave, Kenner, La 70065
Talkin on 146.86 repeater; PL 114.8hz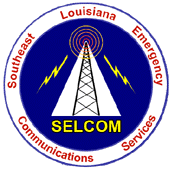 86 Repeater Status
On the AIR!